Myocarditis and COVID-19 Vaccines: How the CDC Missed a Safety Signal and Hid a Warning
by Editor
Monday, September 18 2023 @ 08:57 AM MDT
Views: 30
---
COVID-19 vaccines cause heart inflammation, U.S. authorities now acknowledge. But after being warned in early 2021 about a "large number" of cases among healthy, young people in Israel after COVID-19 vaccination, authorities did not immediately alert the public while also failing to detect a safety signal that was present in the United States, an Epoch Times investigation has found.
Even after deaths from myocarditis—inflammation of the heart—were reported and myocarditis was designated as a likely side effect of the shots, U.S. officials kept recommending vaccination for virtually the entire populace.
That led to millions of young people receiving a vaccine.
Many of those people suffered.
Aiden Ekanayake, 14, was one of them. He received a dose of the Pfizer-BioNTech vaccine in May 2021, and a second dose in June 2021.
Two days after the second dose, Aiden was woken in the middle of the night with pain that was comparable to when he tore his anterior cruciate ligament. His mother, Emily, rushed him to the hospital, where he spent days receiving care. Even after he was discharged, his exercise was limited for more than four months.
Ms. Ekanayake trusted the U.S. Centers for Disease Control and Prevention (CDC) before the experience. Now, she does not.
"I hate them. I think they're evil," Ms. Ekanayake told The Epoch Times.
No Transparency
The CDC, America's public health agency, was warned by Israel on Feb. 28, 2021, about a "large number" of myocarditis cases after Pfizer COVID-19 vaccination, documents obtained by The Epoch Times show.
Internally, the warning was designated as "high" importance and set off a review of U.S. data. The review found 27 reported cases in the United States, according to a U.S. government memorandum dated March 9, 2021. The incidence rate was low, but "missing and incomplete data make it challenging to assess causation," the memo stated. The U.S. Food and Drug Administration (FDA), it said, "has not made a final determination regarding the causality."
People receive a dose of the COVID-19 vaccine at Tel Aviv Sourasky Medical Center
in Tel Aviv, Israel, on Dec. 20, 2020. (Amir Levy/Getty Images)
Weeks later, neither the CDC nor the FDA had alerted the public to the issue, even after the death of a previously healthy 22-year-old Israeli woman and briefings from Israeli officials and U.S. Department of Defense (DOD) researchers.
Like Israel, the DOD was recording a higher-than-expected number of myocarditis cases. Patients were mostly young, healthy males.
The CDC met with military officials twice behind closed doors in April 2021. Military officials presented data during at least one of the meetings to the CDC. That presentation, which has never been released to the public, "included our preliminary patient data and analysis that suggested to us that myocarditis was indeed a possible side effect to the messenger RNA COVID-19 vaccines (within the US military)," Dr. Jay Montgomery, one of the presenters, told The Epoch Times via email.
The Pfizer and Moderna vaccines use messenger RNA (mRNA).
On April 27, 2021, after the meetings, then-CDC Director Dr. Rochelle Walensky finally
spoke
about the matter in public, during a White House briefing.
Dr. Walensky said "we have not seen any reports" of myocarditis after vaccination. That's false, according to CDC data—the agency received 141 reports of myocarditis in the Vaccine Adverse Event Reporting System (VAERS) by the end of March 2021. Another 24 cases were recorded in the Vaccine Safety Datalink, a second system run by the CDC.
Additionally, before the briefing, Dr. Walensky was copied on multiple threads discussing myocarditis and a related condition, pericarditis, including a thread about doctors in California seeing the cases, internal emails obtained by The Epoch Times show. She responded to one of the threads, saying the information was "super helpful."
"We have not seen a [safety] signal," Dr. Walensky also told reporters during the briefing, "and we've actually looked intentionally for the signal in the over 200 million doses we've given."
Aiden Ekanayake in a hospital in June 2021. (Courtesy of Emily Ekanayake)
Signal Found
The FDA authorized the Moderna and Pfizer vaccines in late 2020.
The CDC and FDA are supposed to monitor data from VAERS, which officials have described as the country's "early warning system" for possible vaccine problems. But they failed to detect a safety signal for myocarditis after COVID-19 vaccination that triggered on Feb. 18, 2021, when using a statistical analysis method called Proportional Reporting Ratio (PRR), according to archived VAERS data from the National Vaccine Information Center, The Epoch Times confirmed.
The CDC initially said it started running PRRs in February 2021, but later acknowledged that was false. The agency now says it did not start PRRs until 2022. The first time the CDC ran complete PRRs, officials detected a signal for myocarditis, according to files obtained by The Epoch Times.

"It's unimaginable that they wouldn't have seen the signal," Brian Hooker, senior director of science and research at Children's Health Defense, who detected an early signal for myocarditis in VAERS using a different method, told The Epoch Times. "They were alerted by the DOD. They were alerted by the Israeli Ministry of Health. And so, if they just didn't know then, they have absolutely no excuse because they were warned."
Children's Health Defense, a nonprofit that says its mission is to end childhood health epidemics, first obtained the emails between Israel and the CDC.
Dr. Walensky, who has since departed the CDC, has not responded to a request for comment about her myocarditis claims.
A CDC spokesperson told The Epoch Times via email: "CDC has been continuously monitoring the safety of COVID-19 vaccines since they began to be administered in the United States. At the time of the director's press conference, CDC did not have sufficient evidence to conclude there was a safety signal for myocarditis following mRNA COVID-19 vaccination."
The CDC has said it did not run PRRs in 2021 because officials were relying on a different analytic method, called Empirical Bayesian data mining. It's unclear when that method, utilized by the FDA, first detected a signal for myocarditis. The FDA has declined to answer questions on the matter. The CDC has told The Epoch Times that its 2022 detection of a signal for myocarditis using PRRs was "consistent with" the data mining results.
Both the CDC and FDA use contractors to process VAERS data.
"Even FDA doesn't really know the mechanics of how its contractor does the data mining," one CDC official said in an email obtained by The Epoch Times. The official and the FDA did not respond to requests for comment on the email.
A safety signal is a sign that an adverse event may be caused by a vaccine. Authorities say signals can only be substantiated with further research.
"Once the safety signal comes up, why not start warning the public about the fact that' hey, you can take it if you want, but understand that there is this risk that we have discovered and we are looking into it," Dr. Anish Koka, an American cardiologist, told The Epoch Times.
One possible motivation for not fully examining the issue was that it could have led to a halt in vaccination. The CDC and FDA
essentially imposed
a pause on Johnson & Johnson's shot on April 13, 2021, after a small number of blood clotting cases.
"A pause of the Pfizer/Moderna administration (much like the J&J blood clot pause) will have an adverse impact on US/CA vaccination rates," one military official
said
in a message obtained by The Epoch Times that was flagged for top CDC officials.
Between February 2021 and May 2021, the percentage of the U.S. population that had received a COVID-19 vaccine soared from 14.2 percent to 50.5 percent.
"It was most likely a strategic move in order to make sure that they didn't curtail vaccination rates," Mr. Hooker said.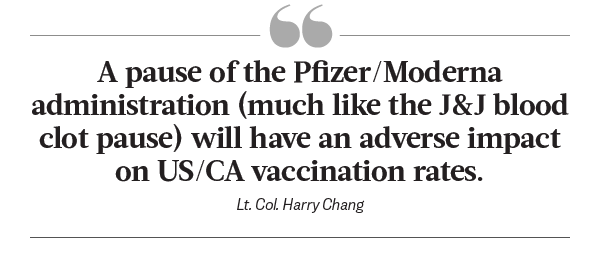 Backlog
A day after Dr. Walensky's unambiguous statement, CDC officials privately acknowledged the difficulty in processing VAERS reports because so many had been lodged.
"Due to the large number of reports that we are receiving at this time, processing is taking longer than usual," one official said. The message was sent to a woman who said she'd filed a VAERS report for her son's myocarditis on April 21 but that the report had still not appeared in the system days later.
Elaine Miller, a CDC official, wrote around the same time that there were "processing delays" for VAERS reports.
A medical assistant holds a tray of syringes filled with doses of Moderna COVID-19 vaccine at a
vaccination site in Los Angeles on Feb. 16, 2021. (Apu Gomes/AFP via Getty Images)
One of the contractors used by the CDC estimated before the vaccines were rolled out that no more than 1,000 reports would be filed per day. The number soared above that estimate by the end of 2020, internal documents obtained by The Epoch Times show.
Workers for the contractor, General Dynamics Information Technology, increased the speed at which they processed but were "unable to keep up with the increased surge in reports at current staffing levels," the contractor informed the CDC in one message.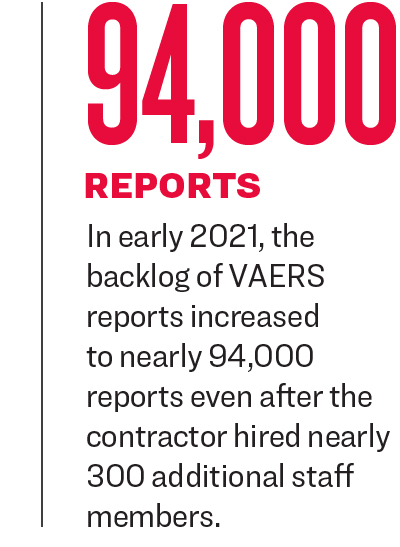 The backlog increased to nearly 94,000 reports even after the contractor hired nearly 300 additional staff members.
Dr. Adam Hirschfeld, 36, of Ohio, submitted a report to VAERS soon after suffering myocarditis following COVID-19 vaccination in January 2021. It took months for the CDC to respond to him. "I could have been dead by then," Dr. Hirschfeld told The Epoch Times.
Health care providers who administer COVID-19 vaccines are required to report serious adverse events, including all cases of myocarditis, to VAERS.
But not all doctors were following the rules, other emails show.
"Providers aren't reporting these cases to VAERS," Dr. John Su, one of the CDC's top vaccine safety officials, wrote to colleagues on May 17, 2021. He also wrote that the "myocarditis thing" was "exploding."
CDC officials, in correspondence with officials in Washington state, said around the same time that nine post-vaccination myocarditis cases had not been reported to VAERS.
The backlog was eventually cleared. VAERS data show that 146 cases of myocarditis or pericarditis were reported by the end of March 2021. An additional 158 cases were reported in April 2021 and 487 more were entered in May 2021.
Just a third of the cases reported to VAERS through April 26, 2021, were fully processed as of May 3, 2021, according to an internal presentation.
In addition to Dr. Walensky's false claim, the CDC has falsely told other health officials and media outlets that it did not receive any reports until May or June 2021, internal emails show.
The Emergency Operations Center at the Centers for Disease Control and Prevention in Atlanta on March 19, 2021. (Eric Baradat/AFP via Getty Images)
Another CDC vaccine safety monitoring system, V-safe, did not include myocarditis despite the CDC and FDA identifying the heart inflammation as an adverse event of special interest, or a possible side effect, for the COVID-19 vaccines before they were authorized. The Vaccine Safety Datalink did include myocarditis but did not detect a signal until 2022, possibly because it was using a too-narrow case definition. A fourth system, run by the FDA and partners like CVS, detected a signal in 2023.

Cases Started in January
Doctors started seeing postvaccination myocarditis cases in January 2021, months before the public was informed about them.
The U.S. military researchers, for instance, detailed in a paper that 22 previously healthy service members suffered from myocarditis after vaccination as early as January 2021.
Seventeen cases happened in January 2021 alone in Israel, Israeli researchers reported in another study.
Dr. Dror Mevorach, a co-author of the paper, said he tried warning Pfizer of the possible link between myocarditis and its shot.
"They refused to believe me for a period of four months," Dr. Mevorach told Haaretz. Pfizer did not respond to a request for comment.
Members of the The United States Marine Corps wait in line to receive the Moderna COVID-19 vaccine
at Camp Hansen in Kin, Japan, on April 28, 2021. (Carl Court/Getty Images)
For many cases, doctors ruled out other possible causes, such as COVID-19—strengthening support for the theory that the vaccines were the cause.
JAMA Pediatrics did not publish any studies about myocarditis after COVID-19 vaccination until Feb. 25, 2022. A query to Dr. Christakis returned an away message.
The number of cases reported in journals increased as 2021 went on, following the pattern of VAERS reports.
The first cases were reported in the literature in March 2021. Just 16 more were published by the end of June 2021. The number spiked to 290 in July 2021.
The Israeli group's report was not released until October 2021, more than six months after the first case was detected.
"It takes time to process the data and collect it and report on it. Of course, when you write an article, there is also a review and a revision process, and it took several months until we were able to publish it online," Dr. Rabea Asleh, director of the heart failure unit and the cardiovascular research center at the Hadassah University Medical Center and a co-author of the paper, told The Epoch Times.
He added later, "There were early reports after the vaccine of myocarditis, we were just waiting to provide more comprehensive information."
He added later, "There were early reports after the vaccine of myocarditis, we were just waiting to provide more comprehensive information."
The doctor tested negative for COVID-19, and researchers excluded other possible triggers.
"Given the evident temporal relationship and the serological pattern compatible with immunization after the vaccine, having ruled out an acute infection, it seems reasonable to associate the clinical picture developed by this patient with an adverse reaction to the BNT162b2 vaccine against COVID-19," the researchers wrote. BNT162b2 is the name for Pfizer's shot.
"Even if no causal relationship can be demonstrated in this case report between the second dose of BNT162b2 mRNA COVID-19 vaccination and acute myocarditis, the timing of the onset and the inflammatory nature of the event make the relationship plausible," they said.
"We found a high and statistically significant risk of myocarditis ... and in our opinion the relationship found can fulfill the criteria for a causal relationship," the experts said. The ministry said: "The conclusion is that there is a high probability of a connection between the administration of the second Pfizer vaccine and the increased risk of myocarditis, especially in young boys."
The CDC also formed a new team, drawing from across the agency, in May 2021. It focused on digging into reports of myocarditis in the United States. And the agency held calls for health care providers, including doctors from pediatric hospitals, to craft guidance and give advice. But it shielded much of the work from public view, including not discussing myocarditis at all during open meetings with vaccine advisers on May 5, 2021, and May 14, 2021.
A child receives a dose of the Pfizer BioNTech COVID-19 vaccine at the Fairfax County Government Center
in Annandale, Va., on Nov. 4, 2021. (Chip Somodevilla/Getty Images)
Ms. Ekanayake, Aiden's mother, had read the Israeli research. But she and her son decided he should get vaccinated because they believed the benefits outweighed the risks, in part because of Dr. Walensky's public statement.
"She said at some point that there wasn't a link, so we proceeded," Ms. Ekanayake told The Epoch Times. "So when my son was vaccinated, there was absolutely no informed consent."
Aiden received his first shot on May 10, 2021.

Kyle Warner, a professional mountain bike racer who lives in the Western U.S. and suffered myocarditis after being vaccinated in May and June 2021, said the lack of warning from U.S. officials about the possible adverse event also led to him receiving a vaccine.
"A lot of us were under the false assumption that 'well, it sounds like no one's been hurt so far, there hasn't really been any issues going on that I've heard of, so it seems to be safe and effective, like they're saying,'" Mr. Warner said. "It kind of perpetuated this myth of 'safe and effective, period.'"
If a warning was issued, "it would have saved me," he added.